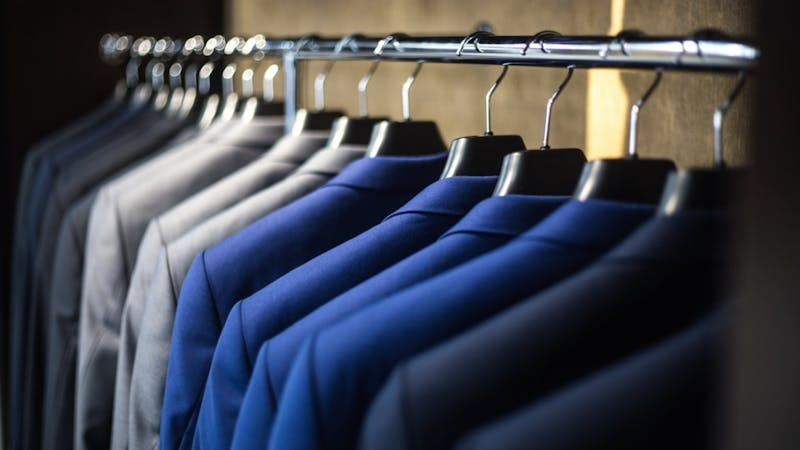 It's a common question: should we rent or buy our suits/tuxedos for our wedding? In our experience, renting is always the last option. There are primarily two reasons: quality of fit and quality of garment.
Most rental companies will promote their absolute bottom price to get people in the door. But that low price suit or tux is usually either well worn by a lot of other men, made of the lowest quality fabric, and has a fit that is nothing short of luck.
In short, if you rent, you get what you get and that is it.
The one advantage to renting that Benny's highly recommends is this: if you can never see yourself ever needing or using a suit/tuxedo again in the future, then rent.
That said, here are six reasons to buy a suit for your wedding instead of renting.
You look better in a suit that fits you properly.
Have you thought about how many other balls have been in those rented pants?
You can wear your suit again.
It's your day too, you deserve to look good.
There is no such thing as a rented slim fit tuxedo.
Share the experience with your groomsmen.
"The wrong suit can ruin everything. When you see a good suit, you always know. It's always a head turner. And you're not noticing the suit, you're noticing 'wow, that guy looks amazing.'" – Melissa Austria
The video below is a good introduction to buying a tuxedo that also applies to suits. In the end, if you attend even just five weddings in your lifetime and rent a suit for a cheap $100 a pop, you will have spent $500 and have nothing for it at the end. Renting vs buying is really a question of investment. Every man deserves to look just as good as his bride on his wedding day. Buying a custom fit and tailored suit or tuxedo is an investment that is well worth the cost.